Research Projects
Development and Production of Composite Leaf Spring Systems for Automotive Industry
(SANTEZ Projesi)
Seeking materials, which are lightweight and high performace, instead of steel has been accelerated in last few years all over the world . Composite materials have the highest potantial to become an alternative candidate material for this purpose. In addition to their lightweight, composite materials are suited to manufacture leaf springs due to their excellent fatigue performance, higher corosion and chemical resistance and their process flexibility as compared to steel.
In this project, fiber reinforced polymer matrix composite leaf spring prototypes which can be used in commercial vehicles were developed. In this context, composite based leaf spring mechanical behaviour were modelled based on finite element analysis (FEA). Characterization of microstructures, mechanical, thermo-mechanical and fatigue behaviour of the selected composites structures is the other objective of the study. Hence, it is aimed to provide a relationship between material selection, composite structure design, material pysical test results and leaf spring mechanical behaviour.
Leaf spring prototypes which wil be designed in this project according to optimum properties and boundary values were manufactured as demostration within this project. As a result, production of the first composite leaf spring in our country and producing economical value with the new approaches and contribitions developed during the project was the global purpose of this project.
Development of Antibacterial Composite Stoneware, SANTEZ Projesi
Development of Shear Thickening Fluids, Savunma Sanayi Projesi (Savunma Sanayi Müsteşarlığı ve BARIŞ ELEKTRİK ENDÜSTRİ A.Ş.),
Development of Armor Materials, Milli Savunma Bakanlığı Projesi (TÜBİTAK destekli proje, Barış Elektrik A.Ş. ve Gazi Üniversitesi eş yürütücülüğünde)
The unique type of materials called fiber–metal laminates (FMLs) has been developed as armor systems, due to their high energy absorbtion characteristics. In the generation of FMLs, instead of thermoset plastics, the fiber reinforced thermoplastic composites offer beter solutions due to their higher energy absorbtion behaviour, toughness and process flexibility. The sandwich panels manufactured using thermoplastic fiber-metal laminates (FML) skins and an aluminum foam core was considered as an alternative configuration for the blast applications.
In this study, FMLs containing the glass fiber reinforced polypropylene (GFPP) and aluminum (Al) sheet are being developed. The FMLs were integrated with Al foam for composing the sandwich panels.The FML-foam sandwich systems were manufactured by stacking the components in a mould at 200°C and under 1.5 MPa pressure. The energy absorbtion capacities together with compressive and flexural properties of both Al foams and FML-foam sandwich systems were evaluated by mechanical tests. Experiments were performed on samples of varying foam thicknesses (8, 20 and 30 mm). The adhesion between these components were evaluated and surface modification techniques were applied to improve the strength at the interface.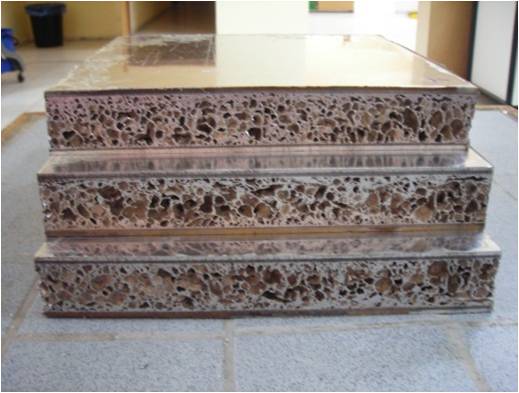 Radar Absorbing Composites, KOSGEB Projesi,
Development of Composites from Commingled Glass / Thermoplastic Hybrid Fabrics, TÜBİTAK-TEYDEB Projesi (TELATEKS A.Ş. ile)
Development of Clay/EPDM Nanocomposite Systems, ARÇELİK A.Ş. ve TÜBİTAK destekli proje.
Development and Characterization of Nanocomposites Based on Polymers and Layered Clays, TÜBİTAK Projesi
Development of Carbon nanotube (CNT) / polyester, JÜLICH – TUBİTAK Uluslar arası Araştırma Projesi, JÜLICH – TUBİTAK MİSAG -5, (Technical University Hamburg-Harburg, Almanya işbirliği ile) Proje Yürütücüsü, 2004 –2007.
Development of Polymer Composites and Sintered Products from nanostructured and nanocomposite powders prepared by mechanical alloying and mechanichemical techniques, TÜBİTAK Projesi, İTÜ Metalurji ve Malzeme Müh. Böl. işbirliği ile.
Synthesis and Characterization of Ceramic Based Composites at Low Temperatures Based on Polymer Pyroysis Techniques, TÜBİTAK Projesi
Development of Lightweight Armor Materials) DPT projesi.
The Creation of Tenzoresistors with Low Thermal Coefficient of Tenzosensibility, NATO Collaborative Linkage Grant, PST.CLG.978434
Development and Characterization of Nanocomposites) İYTE Bilimsel Araştırma Projesi
The Effects of Microstructure on the Mechanical and Thermal Properties of Polymer Composites for Geothermal Applications)
İYTE Bilimsel Araştırma Projesi.
Development and Characterization of Porous Materials for High Pressure Ceramic Molding)
Endüstri destekli araştırma projesi (Eğe Vitrifiye San ve A.Ş. destekli)